Do it yourself.....know how to cut and transform gemstones into a perfect finish
Destiny lapidary gems centre offers training specifically in the gemstone industry, with focus on topics like the cutting of stones, analysis of rare gems, gemstone cutting, how to start and grow a gemstone business, and a lot more.
You can take our course as per modular or combine several complete training programs to successfully graduate in our fundamental gems training program.
HISTORY OF DESTINY LAPIDARY & GEM CENTRE
The director of Destiny Lapidary & Gems Centre is a social-entrepreneur and a school director in Mombasa. He supplies a select and distinctive range of gemstones worldwide from within East and central Africa though he is based in Mombasa-Kenya, He has been operating since May 2018.
In particular, he had found interest growing in bits since  October 2017 after discovering quarts and ribbon semi precious stones near his school.  Destiny Lapidary & Gems Centre began when he realized that there was a wider market for such stones and he set up a market place among friends and website, specializing in rose/facet cuts and cabochons. He made it his mission to plug this gap in the market, to offer an extensive range of gemstones, sizes and cuts, and to offer them in high quality material.
Mombasa and Taita Taveta are gems centres so he started seeking out and making contact with suppliers and cutters. As time has gone by he has increased his range, experimenting with different gemstones, sizes and shapes, and he now stock a good range of standard brilliant cuts and captioned and rough gems most cut to his clients specifications. His latest additions have been a carefully curated selection of designer  PENDANT and Rings. He is always expanding his range and love to hear from customers who have suggestions for new and different products.
As his inventory has grown, so has his knowledge and he has  interest and took is business associate and manager Ms.Lavender Akinyi for learning lapidary  work in Dar Es Salaam ,Tanzania in November 2018 to enhance her education on gemstone faceting,cabochons,gems cutting and gemology in top schools in Gampaha and Colombo,SriLanka under best Qualified UK trained gemologist.
Works and Days
August 1 — December 1
GEM CUTTING OR THE ART OF LAPIDARY
How lapidaries handle traditional tools as well as modern processes.
If the lapidaries are aiming to perform faceting that is nearly perfect, is committed to working with the best tools and anticipating the most beautiful innovations of tomorrow in the art of cutting.
The varied cuts are selected based on the overall characteristics: the presence of areas of colour, inclusions, fracture or incipient cracks in the uncut stone…
The lapidary also has an excellent knowledge of gems and their crystallographic and chemical properties.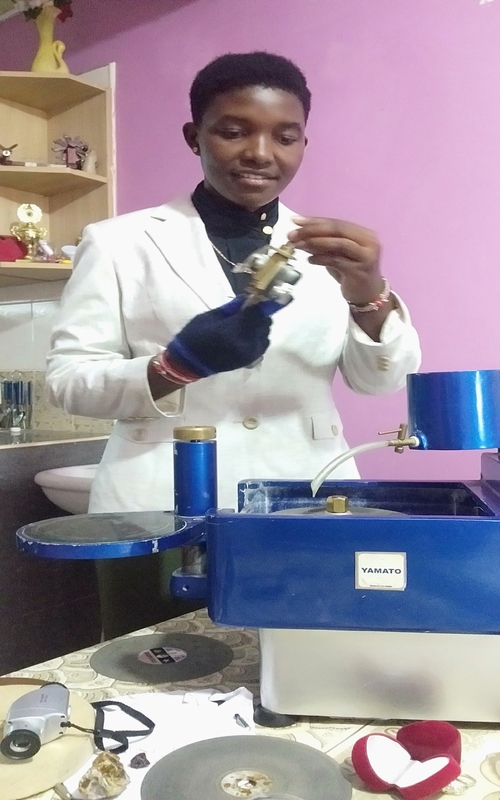 DLGC COURSES
August 1 — December 1
From Signac to Matisse
October 1 — December 1
This is definitely the activity of the lapidary that requires the most comprehensive knowledge of gems.
The challenge of cutting is to produce the finest cut stones in terms of brightness, intensity and colour while maintaining the maximum weight after cutting. The interpretation of the uncut stone is therefore a key stage.
Become a Member and Get Exclusive Offers!
Members get access to exclusive exhibits and sales. Our memberships cost $99.99 and are billed annually.